This whole not working or going to school thing is seriously throwing me. I never know what day it is! Anywayyyyys, I'm still excited for the weekend because that means I get to see everyone who works most of the week!
one // I have an apartment in Charlotte! It's more expensive than I wanted but it's in a wonderful location, very safe and and decently easy drive to work! It's also approximately 4 minutes from where my mom grew up. How crazy! The lease also ends in October so if I really want to find something cheaper I can!
two // Christian and I are headed to Carowinds right now. I'm like a 5 year old today... I hope he's prepared. Sidenote: are sock buns appropriate for roller coasters? I hope so..
three // We're headed up to Boone tonight to get the majority of my stuff I left there. I'm leaving the furniture for now because I'm trying to sell it in Boone. But this also means we get the whole day, night and tomorrow together. After many weeks of no alone time, I'm excited to just chill together. Also, this totally could have been lumped with number two.. sorry.
four //
My sweet friends
Sam and Jeremy
let me stay at their place this week while I was bumming around Charlotte getting move in things together. They are the sweetest and I'm so excited to be living near them in 7 days!!
five // This pup.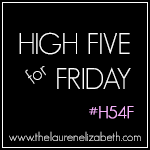 Happy Friday, everyone!