I mentioned in my self care
post
that I've really gotten into podcasts recently so I thought I would share a few of those. Full disclosure: I have really weird podcast tastes but maybe you're interested in some of my weird stuff, too?
First up, Bachelor podcasts. I'm putting this out first because it's the most embarrassing and I'm just embracing it.
Here to Make Friends
Bachelor Party
The Ben and Ashley I. Almost Famous Podcast
There's something about listening to these guys either dish about the behind the scenes stuff or vent my exact thoughts about the previous episode that I just love. Most of my friends don't watch it, so I guess this is my way of talking about it. These are also good for when I'm multitasking because I'm not really trying to absorb the material like I would some more development type podcasts.
When I'm not listening to podcasts about my guilty pleasure TV, I like to listen to things that make me think a little bit more or give me ideas or actionable items to make changes in my daily life.
My number one favorite is Stuff Mom Never Told You. I have listened to SO many episodes of this since finding it. I started listening to episodes where Bridgette and Emilie are the co hosts but have since gone back and listened to a few from the original co hosts and enjoyed all of them. A few of my favorites are:
Can a Marriage be Feminist?
Can I be a feminist and still enjoy trashy reality TV? (I mean, hello, see above)
The Problem with a Pinterest Perfect Life
Women and Pyramid Schemes
The Mommy Tax
Clearly most of these are feminist centered and I've really enjoyed digging into these topics and thinking through my own opinions more and its started some great discussions with friends and Christian as a result.
Unladylike
is another favorite, but its newer. It is hosted by the original hosts of Stuff Mom Never Told You so you can assume it has some similar ideals. It's all about women who are defying the term "ladylike". It is a newer podacast so there aren't as many to binge but I'm a fan so far.
Bossed Up is hosted by Emilie from Stuff Mom Never Told You. Clearly, this was my podcast jumping off point.. But, it's a professional development podcast. There are four episodes so far and I love them all:
To Lead or Be Liked?
When is it time to quit?
How to get a Male Mentor
I started my company - Now what?
Goal Digger: The Podcast is Jenna Kutcher's podcast on marketing, social media, small business strategies, etc. Not all of it is beneficial to me because I don't have a small business but some are super helpful for anyone with a job or a blog. I've just started listening to this one so I'm looking forward to digging in even more to it.
Armchair Expert with Dax Shepard. I LOVE Dax Shepard. Last summer, I binged all of Parenthood and from that moment on, I was sold. It also helps that he tweeted me a few times in response to my tweets about him and I love that he interacts with his followers so much. They are longer episodes so they're good for when you're cleaning on Saturday or have a few uninterrupted hours in the car. I really loved both the episodes with Kristen Bell and Ashton Kutcher and hearing their take on life and how they approach it.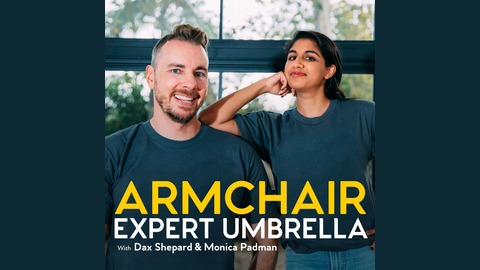 Do you have any favorite podcasts I should add to my life?