Whew. Hallelujah it's Friday! Second week of the real world, and now I understand the hype over Fridays. In college, I didn't have Friday classes and I obviously wasn't sitting in the same seat for 8+ hours a day! I'm still loving my job and all the people, but I need a nap!
Onwards!
one.
I JUST ORDERED INTERNET!!!! I have dearly missed Internet. You never realize how much you use it until you don't have it for almost 2 weeks.
two.
I finally start doing my actual job on Monday at 12pm! I am excited, nervous and everything else that goes along with a new job!
three.
I have July 4th off! The place I work has some weirdddd schedules. The business I work on is open 9am - 12am every day of the week, every day of the year except for Thanksgiving Day and Christmas Day. Therefore, there was no guarantee of the Fourth off! But my schedule this next week is 12pm -9pm M-F and the next week is 9am-6pm with Thursday and Sunday off!
four.
I have been living in Charlotte for 14 days and I've only
not
seen Christian for two of them. I love it. His family had me over for dinner last night and they're wonderful. They're always so welcoming and I love that they'll still feed and entertain me while I'm living 15 minutes away and can easily feed and entertain myself.
five.
Having time to read again! I've read 2 books in two weeks and I just started another one thanks to Stephanie! I'm only a few pages in, but I'm liking it and it being pretty practical things you can relate to. I also suggest that every single one of you go buy Gone Girl. NOW. I already want to read it again.
Linking up with Lauren for HF4F!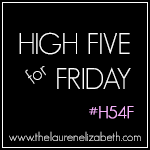 And don't forget to enter the giveaway I'm participating in over on Chelsee's blog!